Press
THE GLOSS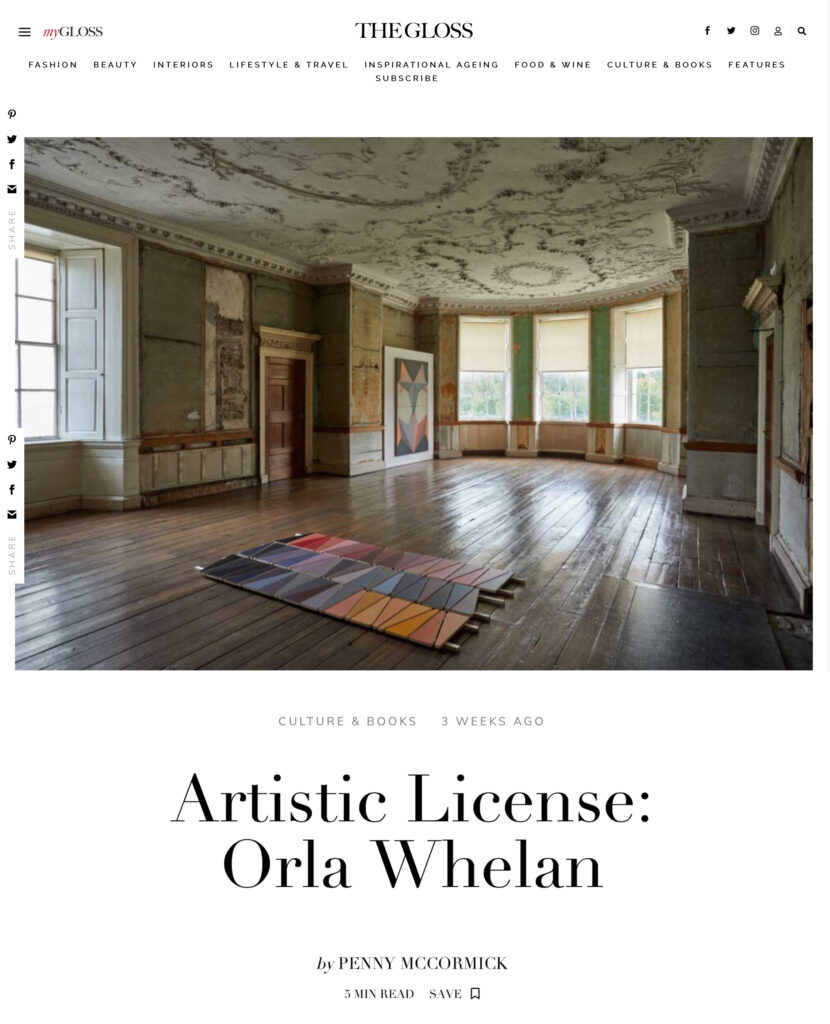 Visual Artist Newsheet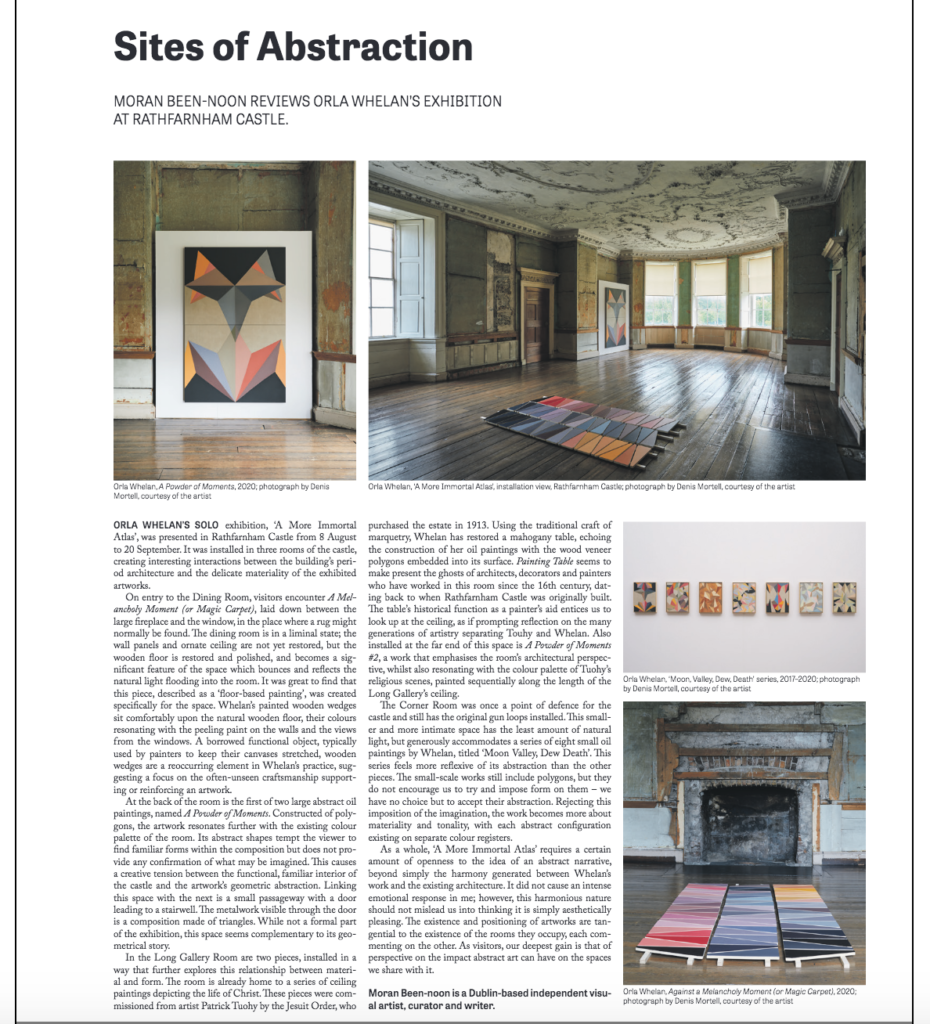 Podcast Interview
Interview with historian and writerJuliana Adelman.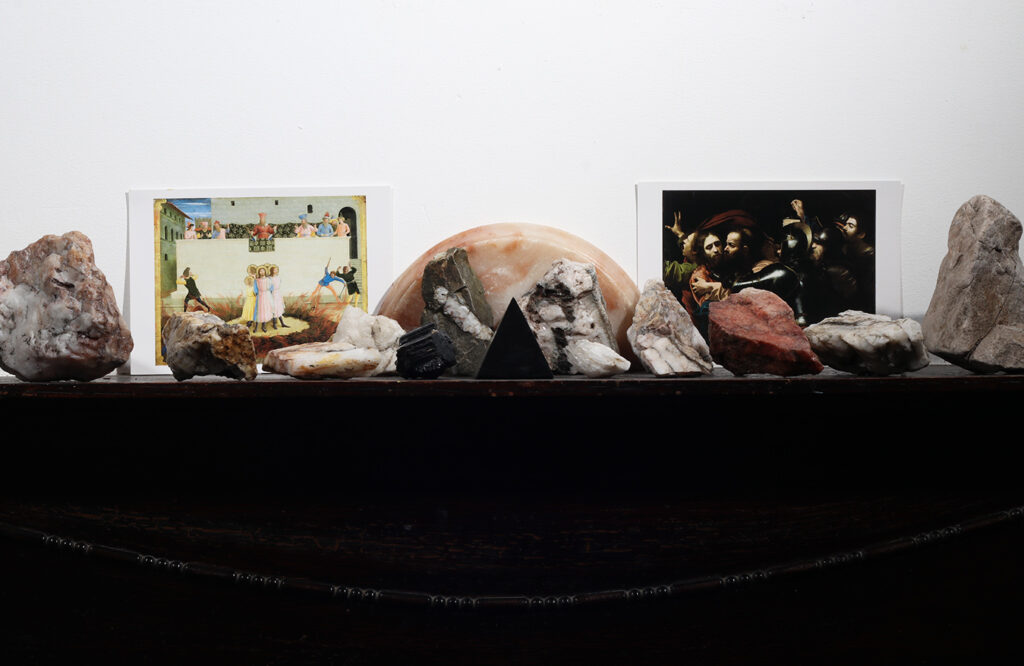 ALHAUS Magazine
ALHAUS Magazine, MARCH, 2020 Julie-Ann Sherlock
Meet the Influencer: Orla Whelan
Acclaimed visual artist, writer and illustrator Orla Whelan finds inspiration in the Wicklow Mountains and the architecture she encounters on her travels. Winner of the inaugural Merrion Plinth Art Prize in 2019, she completed a large-scale commission for Facebook Dublin while on a residency at the Irish Museum of Modern Art. Currently preparing for her exhibition, A More Immortal Atlas, she speaks to ALHAUS about her creative process and the Irish art scene.
My day starts after I get my husband and two kids out to school, when the house is quiet. When I've had at least two cups of tea, I go into the studio and start to work.
When I'm painting, I usually spend the first hour each day mixing colour. This is probably my favourite time of the day, where I really focus on just colour. After that I start painting, intuitively working out the composition as I go along. For me, abstraction has this huge potential to explore what can't be put into words or even pictures. It lets me articulate a kind of metaphysical uncertainty that I don't know any other way to represent.
I don't listen to music when I'm painting but I listen to talk radio or podcasts while I'm setting up. Once I'm in the zone, I turn it off. I prefer silence. That way, I have no sense of external time and I can just be in painting time, which seems to move slower and faster than external time.
As far back as I can remember, I have always wanted to be an artist. Drawing and painting were my favourite things to do as a child. My style has changed a lot since I started out and now includes more than just painting. I also work with other materials like wood, I write, collaborate with other artists, run a collective, teach and do illustration and commissions. But I still spend most of the time painting.
Dublin has lots of great artists. The current housing crisis has meant the closure of many group studios and a shortage of spaces to make and show work, with more and more artists working from home. In 2013, I set up AtHomeStudios, a collective of professional visual artists who work in isolation. We meet in person every two months for peer critique, information sharing and critical discussion sessions. It's a great alternative to a group studio model and has become an important network for me; and a chance to explore the relationship between art and life in domestic space.
Visually I take inspiration from lots of sources: nature, artifacts, architecture and materials themselves. I've always been influenced by literature. My tastes are eclectic but I gravitate towards books that deal with existential anxiety, characters grappling with their own subjectivity with varying degrees of intensity, humour or despair. I love Marcel Proust, Virginia Woolf, Clarice Lispector and Michael Ondaatje, to name just a few.
I think it is really important to see art, especially painting, in the flesh. Seeing it on a screen doesn't compare at all. I have a basic website that is in dire need of an overhaul. That's on my to do list for 2020 so watch this space! I use Instagram to let people know what's going on in my work and update them about upcoming exhibitions.
Orla Whelan's forthcoming exhibition, A More Immortal Atlas, opens at Rathfarnham Castle in June 2020.
orlawhelan.com | @orlawhelanartist
The Irish Times
The Irish Times – Images of the day – Thur 27th June 2019
THE MERRION PLINTH
Artist Orla Whelan is the inaugural winner of The Merrion Plinth Award, pictured here with her winning piece: 'Chaos Bewitched,' 2019, Oil, birch wood, glass.
Orla Whelan is the first winner of this new biennial contemporary art prize of €5,000 with the winning piece of art taking up residence in the hotel for the next two years.
The Merrion Plinth was created to celebrate the hotel's 21 years in business, and through an open submission process for professional artists a shortlist of five artists were selected including Alva Gallagher, Jane Rainey, Lee Welch, Marcel Vidal and Orla Whelan. The judges included Lochlann Quinn, Chairman of the hotel, Patrick Murphy, Director of the RHA and Oonagh Young, Director of The Oonagh Young Gallery.
As dedicated supporters of visual art, The Merrion hotel aims to support contemporary artists by sponsoring this prize honouring outstanding talent. The Merrion Plinth will continue to run as an open submission competition every two years. The hotel is already home to an important private collection of 19th and 20th-century art, to which the hotel's grand interiors offer the perfect backdrop.